Race Roster offers the ability for event organizers to create bundles which allow for participants to register for multiple sub-events during one registration. For example, one sub-event can be called 5K + 10K which allows the participant to register for both sub-events during one checkout.
To avoid having unwanted duplicate product assignments or charges across the multiple sub-events within your bundles, it is important to configure how you would like your products (ex: race t-shirts, add-on products, etc.) to be assigned within the correct sub-events in your bundle. Properly configuring your product settings with your bundles is important for ensuring accurate inventory totals on your dashboard.
Please follow the steps below to ensure proper product configuration with your bundles sub-events.
1. Click on your products settings under the settings tab from the left hand side of your event dashboard.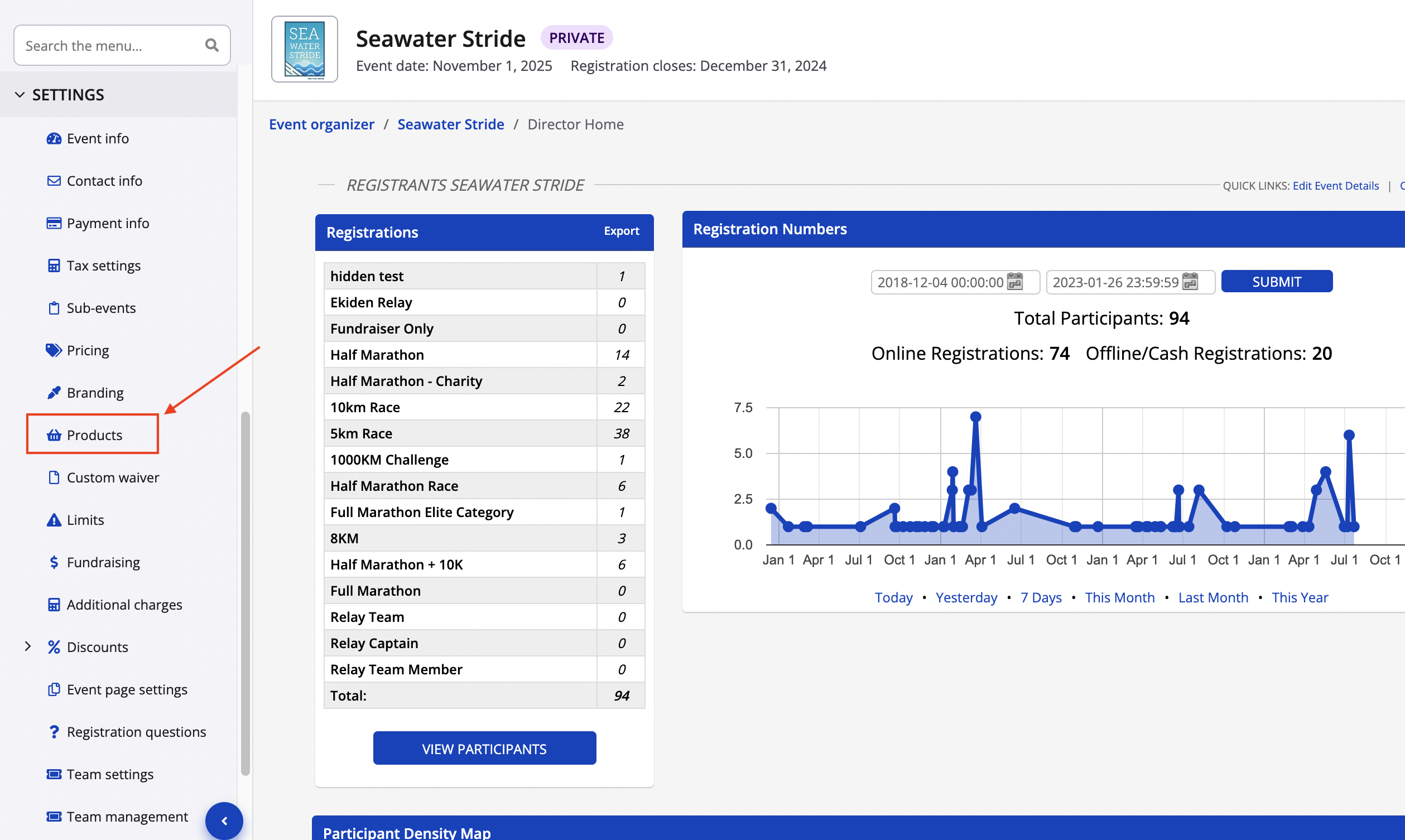 2. From your product settings, select the product that you'd like to apply to your bundled sub-events by clicking edit details next to that product. If you have not yet created the product, please reference our article on how to create a product here for help.

3. Scroll down to your product registration settings. Select which sub-events your product should apply to. You have the choice of selecting:
All sub-events (every sub-event on your event can select this product)

Specific sub-events (select which individual sub-events can select this product)

No sub-events (product cannot be selected by any individual sub-events - this should be selected if the product should only be selected as part of a bundle)
*NOTE* If you exclude an individual sub-event from being available for a certain product, this will block the product from being visible when registering for that individual sub-event.

However, a product can still be applied to an excluded sub-event if a bundle contains this excluded sub-event. This means the product can ONLY be applied to an excluded sub-event if the bundle settings are configured to allow for the excluded sub-event to be assigned this product. Bundle product settings will override individual sub-event restrictions.
4. Configure how you would like your products to apply specifically for your bundles. You can decide if you'd like to have your products apply to:
All bundles

Specific bundles

Not available to any bundles
5. Select how products should be assigned to sub-events within your bundles. Bundles create multiple registrations within your participant list for each sub-event within the bundle. Ex: if a participant registers for a bundle called 5K + 10K Bundle, they will have a total of three registrations in your participant list as follows:
5K + 10K Bundle registration

5K registration

10K registration
These settings will affect your product inventory counts and participant list reporting as products can be assigned to one sub-event in the bundle, all sub-events in the bundle, or only specific sub-events in the bundle. Each available option for how products can be assigned to sub-events within a bundle are listed below with more detail:
Existing sub-event selections (Uses the same sub-event selections used in step 4)

The bundled sub-event (the bundle itself, excluding any individual sub-events within it)

All sub-events in the bundle (all individual sub-events within the bundle, excluding the bundle sub-event itself)

Specific sub-events in the bundle (select yourself which specific sub-event(s) in the bundle should be assigned the product)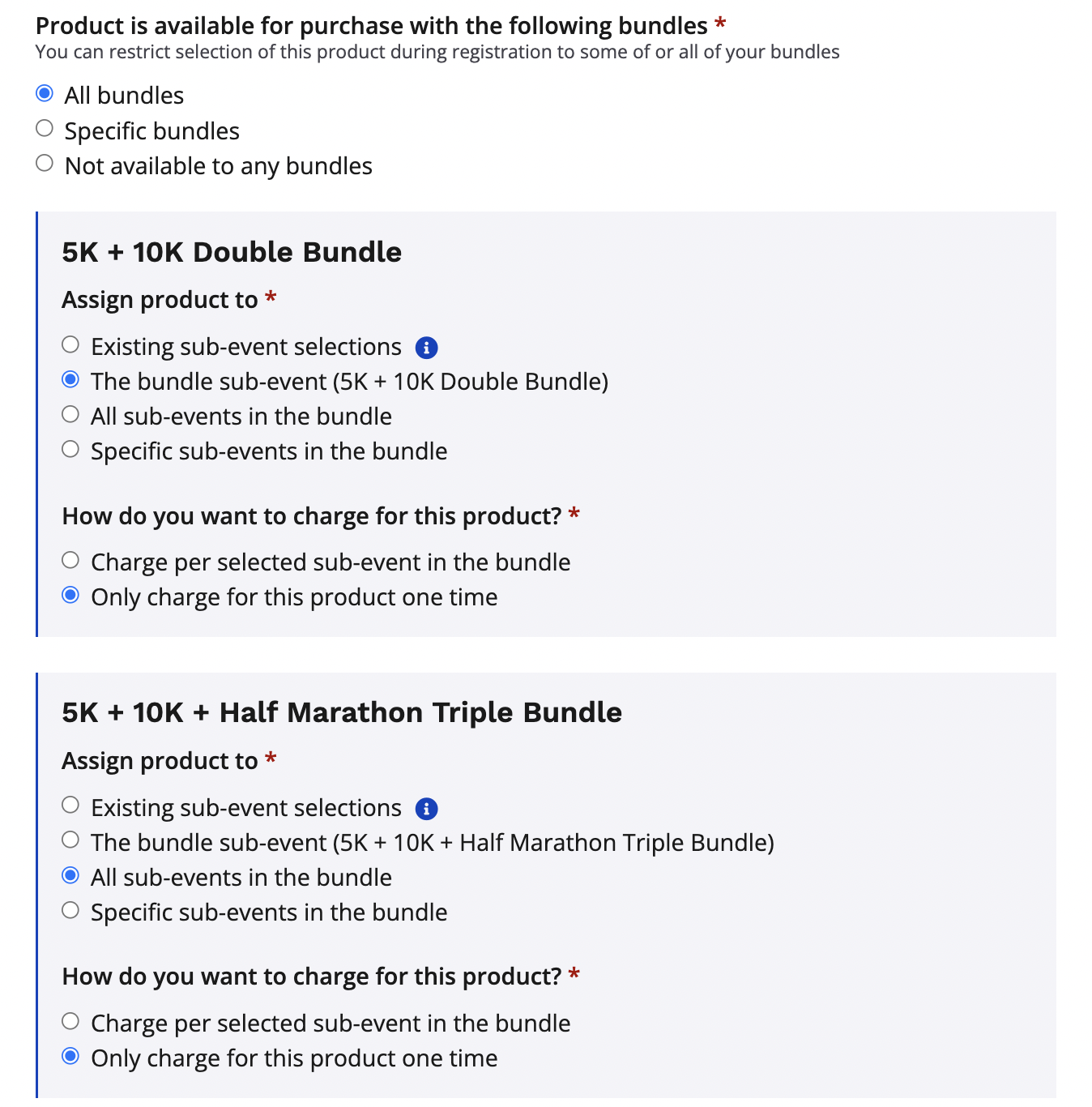 6. Select how you would like to charge for this product:

Charge per selected sub-event in the bundle (1 charge per sub-event that is being assigned a product within the bundle)

Only charge once for this product (one charge for the whole bundle)
In most instances, only charging for the product one time is best practice to avoid overcharging on any purchases. In some instances, a unique charge should be made for each sub-event being registered for (ex: purchasing custom bibs for each registered race).
If you have any questions, please contact our support team at by phone at +1 855-969-5515 or via email at director@raceroster.com