Race Roster has an integrated fundraising system meaning participants can enter and fundraise directly with Race Roster. Not only will each participant (and team if applicable) receive their own fundraising page and be able to elicit donations directly with donors, Race Roster will automatically transfer all funds raised to the Charities bank account on a weekly basis.
For the Stripe KYC (Know Your Customer - aka identity verification) process to progress smoothly it is important the appropriate representative from the Charity sets up their bank details, not the event organiser.
Below is a step-by-Step Guide. Step 1 and 2 will need to be completed by the event organiser. Step 3 will be managed by the Charity representative themselves.
Note for fundraising coordinators: the bank details only need to be set up once and they are attached to your user profile, so they can be used for other events if you desire.
Step 1: Set up the Charity on your event
(to be completed by the Event Organiser)
In the event, go to

settings->fundraising

. And ensure fundraising is enabled. There are a range of settings here that you may want to consider.

Click

Create new fundraising organisation.

Fill out the required information to set up the Charity.

Back Under Settings->fundraising, your charity should now appear under Organisations. You will note that the payment profile needs action

Step 2: Provide access to your Charity Representative
The next step is to give your Charity representative access to your event on Race Roster. This person will be known as a fundraising coordinator in Race Roster with the appropriate privileges to restrict their capacity to only manage their charities.
Under the applicable event using the settings menu, select

management->staff access

Click

add new organiser and enter an email address
Click

arrow on right

Either add them automatically if they have an existing Race Roster account under their email address, or, send them an email to claim their access

Keep the event creator toggle disabled

Select the event you want to provide the charity with access to


Select access type: FUNDRAISING COORDINATOR from the drop down

Update the settings to restrict access to the appropriate charity for the fundraising coordinator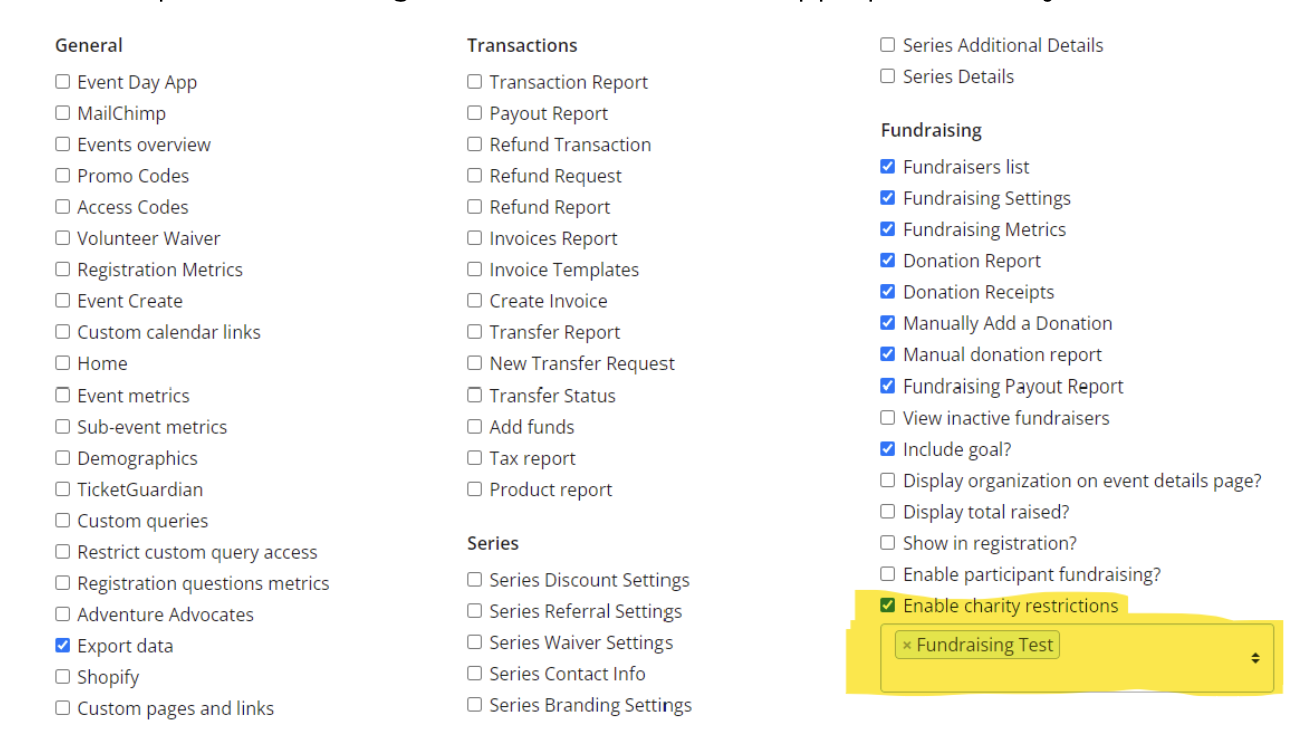 Scroll down and click ADD
This will send an email to the fundraising coordinator to let them know they have been granted access to your event to update the charity information.


Step 3a: Adding Charity Bank Details (Payment Profile)

(to be completed by the Fundraising Coordinator from the Charity)
This process has two steps:
Adding the bank details for the fundraising organisation (charity)

Verifying your identity with Stripe
Note: Race Roster uses a 3rd party called to Stripe for identity verification - to check you are who you say you are. You do not need a Stripe account for this process.


The fundraising coordinator will have received an email from Race Roster.
Click the event link and log in to (or create) your Race Roster account.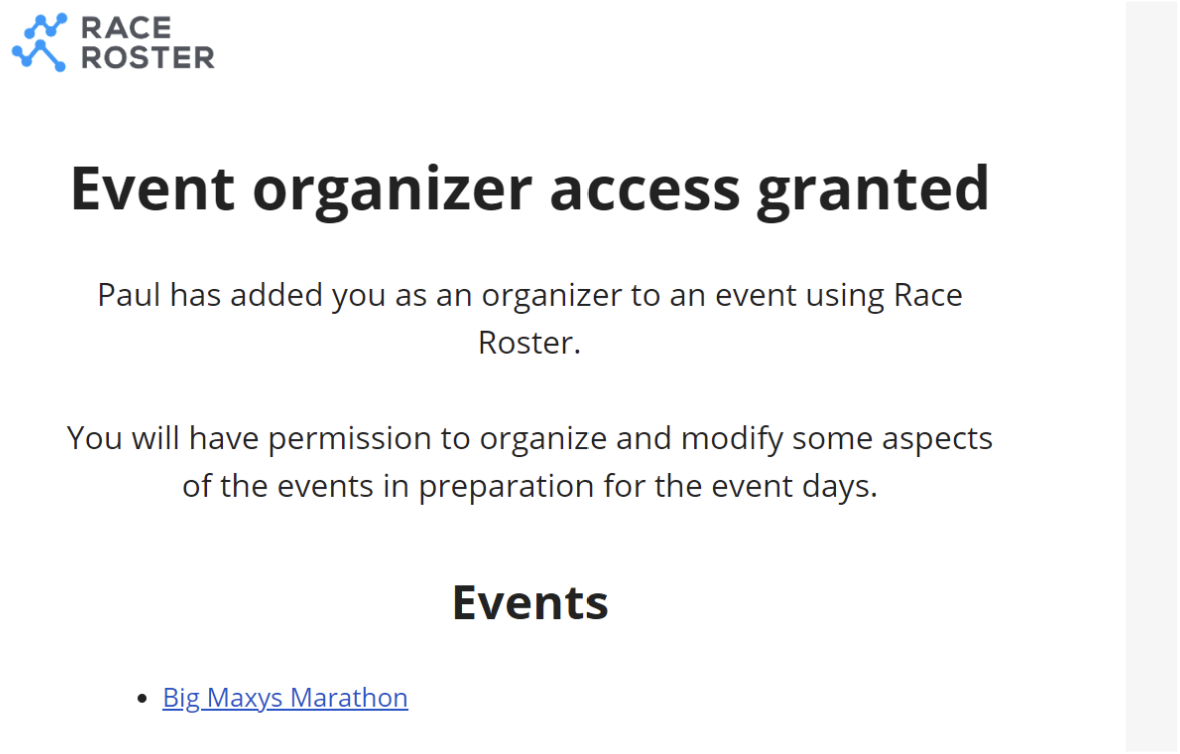 Using the menu on the left, go to Settings > Fundraising

Here you will find the fundraising organisations you have been granted access to. Now it's time to set up a payment profile for this charity.

Click the 3 dots on the right and choose

manage payment profile





Select add a new payment profile

Provide a name for the payment profile

Check the box to confirm you agree with one of the statements




Enter in a name, email address and country

Enter the bank details where donations are to be processed to



Read and agree to the stripe terms of service and click save. You will be redirected to Stripe for identity verification.

Step 3b: Know Your Customer (KYC) Process using Stripe
Follow the steps on Stripe. If you have have trouble, please refer to the instructions surrounding Stripe verification in the article how to setup an AUD payment profile.
When you have completed the stripe process and have been approved, you will see this reflected on the fundraising settings page



You charity is now set up to receive donations for this event

Note: You can use this payment profile on other events, so you only need to set it up once.