1. Log into your dashboard as an Event Organizer.
2. Navigate to the left of your screen to the search bar in the Event Organizer menu. Search and select Tracking links. You will then land on the Tracking links overview page.
3. Click + Create a tracking link
You will then have to complete the form in order to obtain a tracking link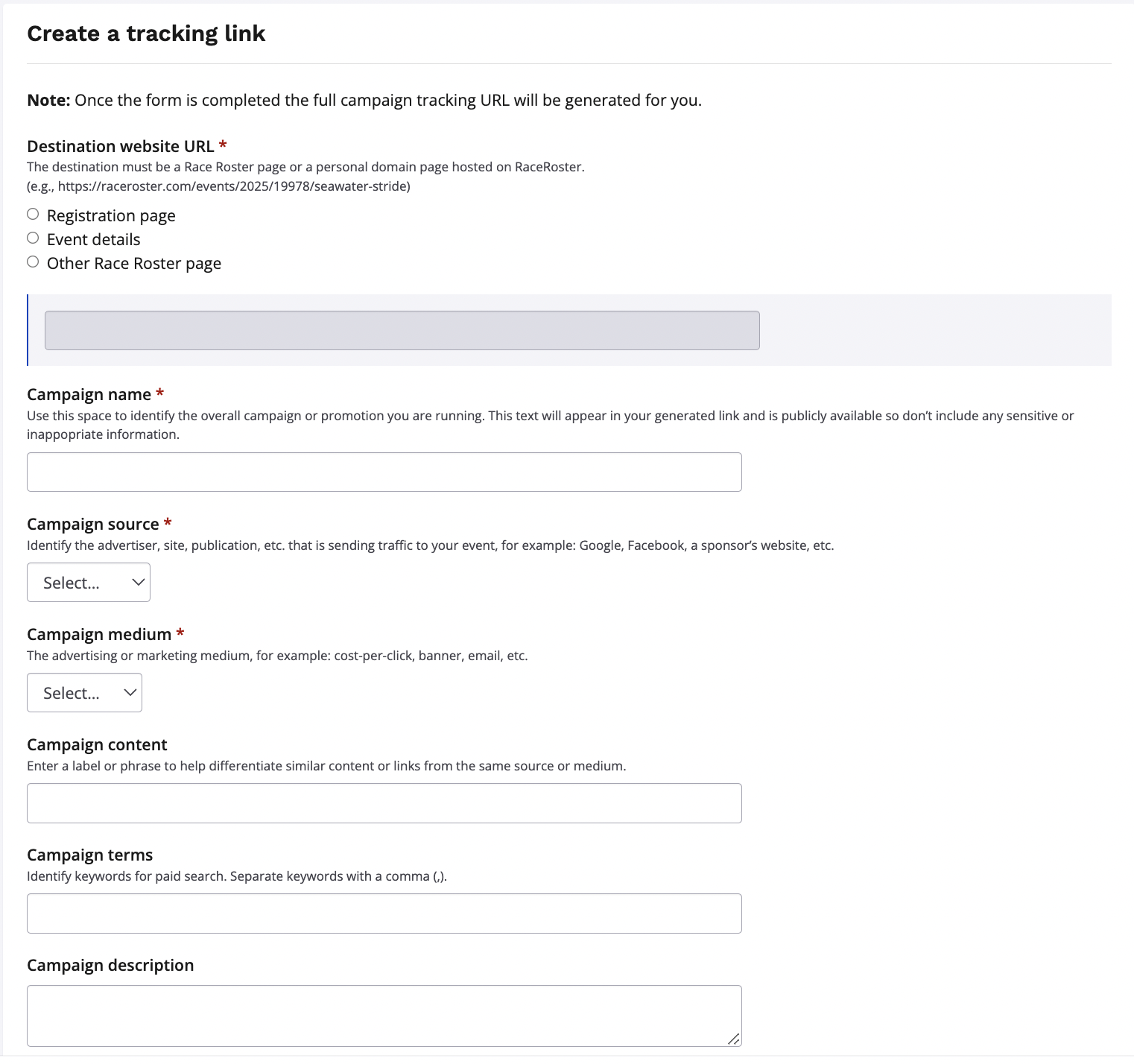 4. Enter the following information:
Destination website URL: The destination must be a Race Roster page or a personal domain page hosted on Race Roster.
Registration page - When a user clicks on the link, they will land directly in the registration form
Event details page When a user clicks on the link, they will land on your main event page that contains details about your event
Track conversions across a custom page, a fundraising page, a volunteer page, a store, etc.
NOTE: the url must be a race roster page associated with your event.
Campaign name: Use this space to identify the overall campaign or promotion you are running. This text will appear in your generated link and is publicly available so don't include any sensitive or inappropriate information.
Campaign source: Identify the advertiser, site, publication, etc. that is sending traffic to your event, for example, Google, Facebook, a sponsor's website, etc.
Campaign medium: The advertising or marketing medium, for example, cost-per-click, banner, email, etc.
Campaign content: Enter a label or phrase to help differentiate similar content or links from the same source or medium.
Campaign terms: Identify keywords for paid search. Separate keywords with a comma (,).

Campaign description: Use this to keep a note of what this tracking link is for.
5. Once you're satisfied with your tracking link click save. You can then copy your generated link by clicking the copy button.
You can now include your link in ads, emails, and other third-party sites.