Below are step by step instructions to help your volunteers with bib / packet pick up. Feel free to share this link with them leading up to race weekend or print copies of the section "Instructions for staff and volunteers to check in participants" to have on site. Before the expo and check in, take a few moments to set up your electronic devices and sign in to the Onsite App. 
Instructions for check in set up:
1. Volunteers and staff sign in to the Onsite App on their devices via raceroster.com/onsite
2. Click the green Check In bar and your onsite app check in kiosk will open

3. Select +View Display Options to refine the fields that need to be visible to volunteers (image 3) i.e. birthdate can be helpful to make a distinction between two participants with the same name
4. Share the instructions below with your team for packet pick up check in
Instructions for staff and volunteers to check in participants:
1. Type first name OR last name, email address, team name, phone number, confirmation number OR bib number into the search bar under Race Information and click the big blue bar to Search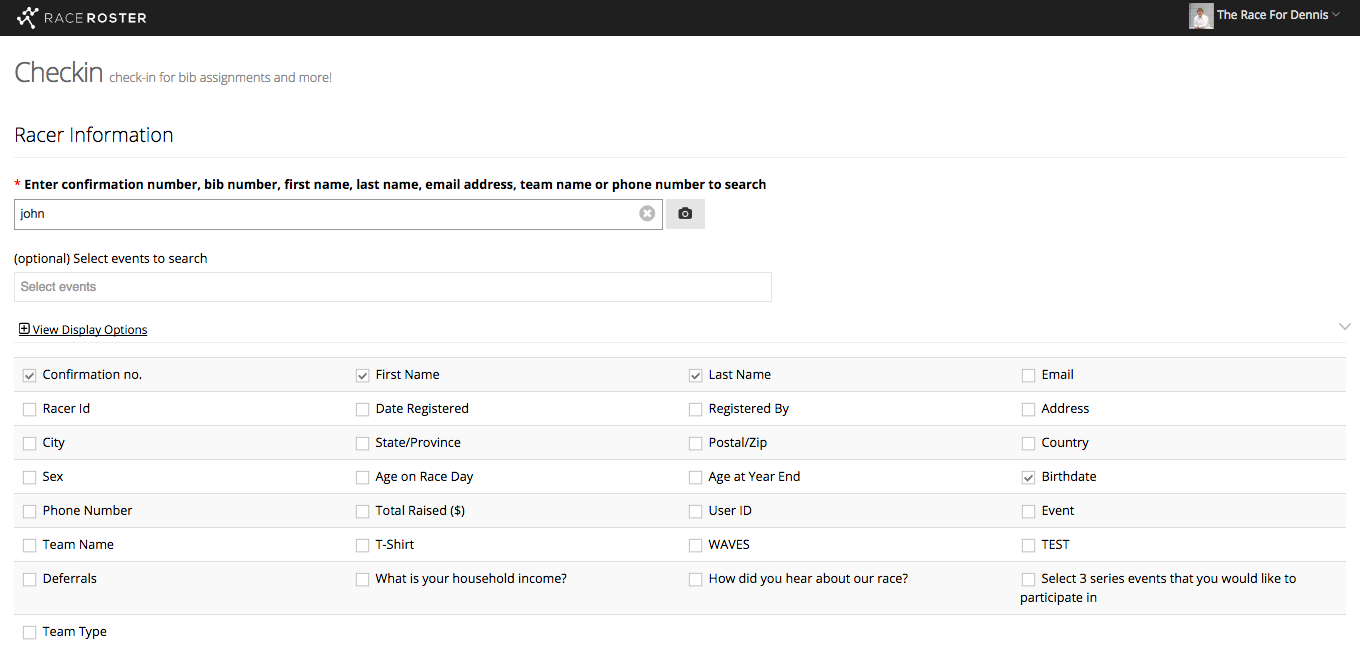 2. If your search yields a lot of results, use the second Search: (to right under red heading) and fill in another piece of information i.e. search First Name in field one, Last Name in field two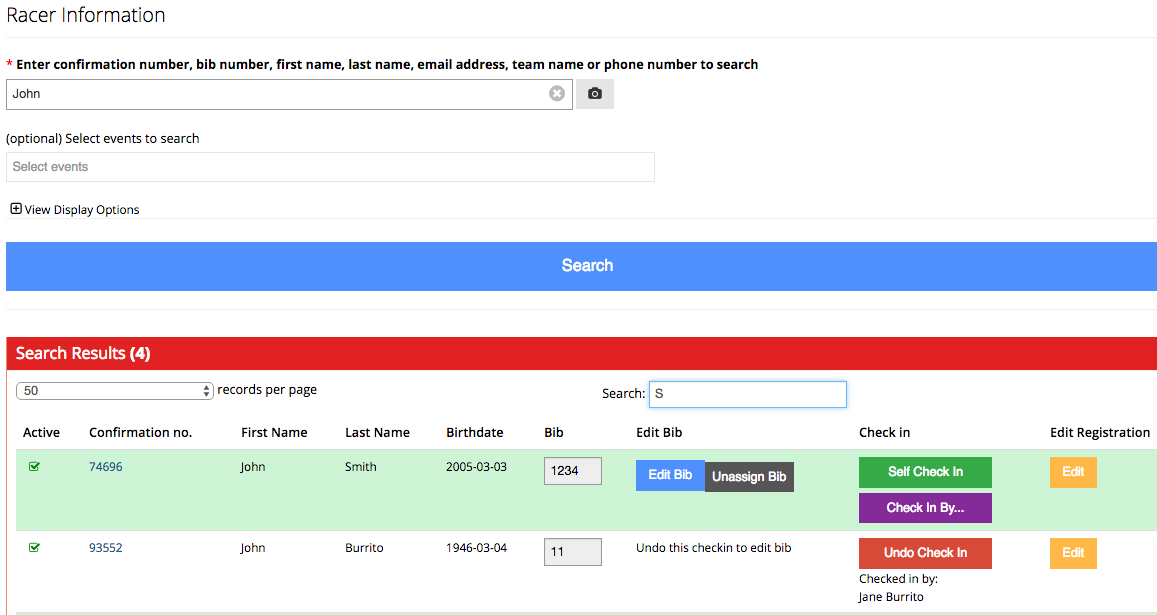 3. When you see the right registrant in your results, its time to check them in

Self Check In
- If the person is checking in themselves click Self Check In next to their name
- If bib number is not yet assigned, the Self Check In button will prompt you to assign one, simply click Okay and type the available bib number you give them into the empty square Bib field before clicking Self Check In again - select it and the button will turn red and read Undo Check In

Checked In By
- If they are picking up the bib for someone else, click on Checked In By... next to the searched name
- If you select Check In By... a pop up will open with a field asking for a name, fill in the name of the person picking up the bib and click Okay, this function is helpful when someone comes to check in and their packet has already been picked up because you can tell them who picked it up (if you get a bib number error follow instructions above)
1. With manager permissions you can edit a person's registration info by clicking the yellow Edit button, making changes and clicking Save *be sure to follow event/timing protocol on whether or not edits can be made 
2. If you accidentally check in the wrong person or make a typo, simply use the Undo Check In button and repeat steps detailed in point 4
3. If a bib change needs to be made use Edit or Unassign Bib buttons
4. Return to the top Search bar and follow the steps 1 through 4 to check in your next participant
For more on the onsite app including device configuration and instructions for volunteers, visit the Onsite App section of our knowledge base. If have questions about uploading bib assignments, contact our Customer Success team at support@raceroster.com.