1. Go to your dashboard, verify top right that you are using Race Roster as a Race Director
2. Navigate to the left select and click Event Staff, then click Director Access & Settings
3. Navigate to the right and click add new director. Follow prompts to enter in email address, access code, event creator privileges, and types of access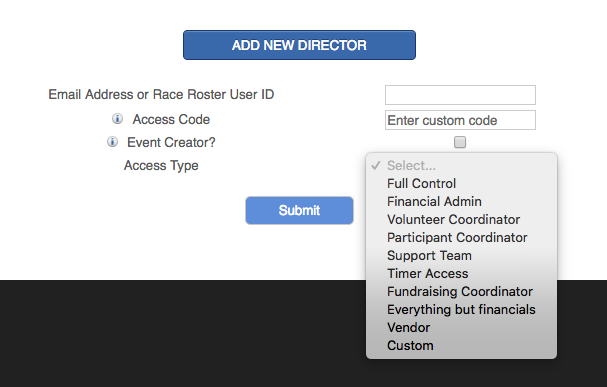 4. The Access Code is an additional privacy/security measure that will need to be created by you and shared with the new director so that they can access the event when they click on the email link
5. Check Event Creator when you want the director to be able to duplicate an event, take the event from draft to demo, private, live, paused or delete 
6. Race Roster understands that many committee or staff roles are involved with carrying out a great event so we created different access types. 
Full Control
Financial Admin
Volunteer Coordinator
Support Team
Timer Access
Fundraising Coordinator
Everything but financials
Vendor
Customs 
7. If the director you are adding doesn't fit the presets choose custom from the access type dropdown. Review and select from the 130+ settings available.
8. Click submit and Race Roster will send an email to the new organizer inviting them to accept access to the event. As notification is released immediately, please send the accepting organizer their access code as soon as possible.
NOTE: If the organizer already has a Race Roster account, you have the option to automatically add the director under the claim type dropdown.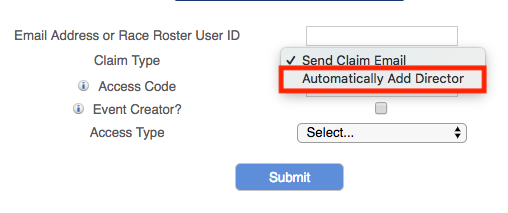 9. The recipient will be prompted via direct email to follow a link, enter their Access Code, email address associated and their password (if they do not have an account with Race Roster the system will prompt them to create one)
10. Your committee and staff are now ready to help in managing your event