Go to your

race director dashboard and verify that the event you're working on is in the white bubble in the top blue bar of your screen, if incorrect, search for the event name you are looking to edit

In the left tool bar of your dashboard click the down arrow to open up 'Event Settings' and from that menu choose 'Sub-events & pricing'

Once in event pricing you will be prompted to create a sub-event

You will need to indicate the following
- Sub-event name = 5K Run
- Distance of sub-event (optional) = 5 km
- Sub-event description (optional) = Join us for a fun run through Alders Park
- Minimum Age (optional) = set min age for the sub event if applicable
- Maximum Age (optional) = set max age where applicable (i.e. kids run)


- Calculate Min/Max Age As Of = pick date for the system to use when calculating age - Event Date, Year End, Registration Date or Custom

Scroll down and indicate whether more sub events are needed

If yes, you will be provided another sub-event form to fill out
If no, you will be taken to the next stage
Adding pricing:
In red you will see registration open and close dates, verify that those are correct before proceeding to schedule your price points (more on price points below image)
Once in event pricing you want to choose 'Pass Fees On To Participant' or 'Absorb Fees Into Ticket Price'
Navigate to the Sub-event pricing section to enter the pricing for each of the created sub-events:
- Price = set amount for fixed i.e. $40 or it will show Variable
- Date/Time = registration open/close or us 'Manage' button to set times/dates and price points
- Limit Max Entrants (optional) = set limit on max # of registrants per category
Once complete, click Save at the bottom of the screen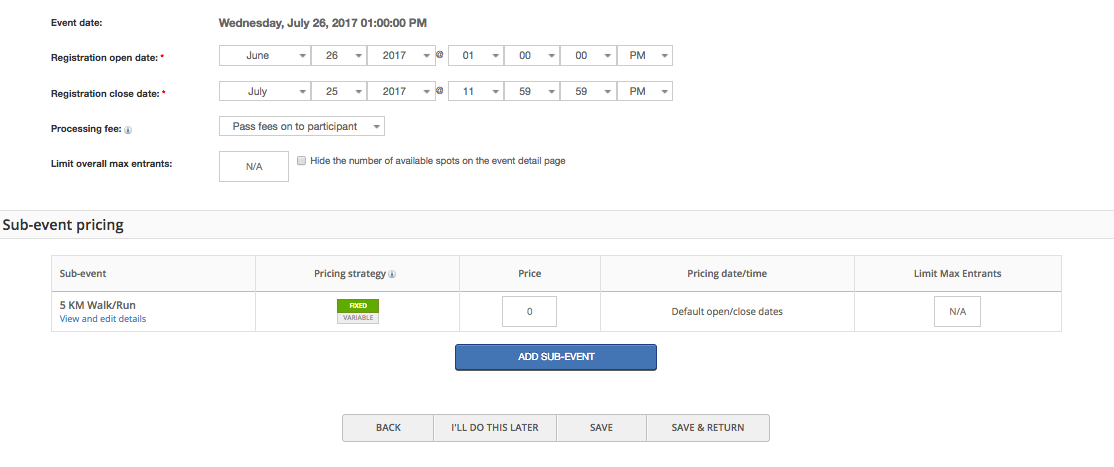 For more on event setup and configuration go to this section, 'Create, Edit or Take Your Event Live'.