1. Log into your dashboard as an Event Organizer.
2. Navigate to the left of your screen to the search bar in the Event Organizer menu. Search and select Email campaigns.
You will then land on the Email campaigns overview page. Creating a campaign is a 7 step process.
Step 1: Select
1. After clicking the create a campaign button, you will be able to select either a blank campaign or one of the pre-made templated campaigns. If you select a New campaign, both the template and triggers will not be set. Pre-made campaigns are available, they do have copy and triggers already set. However, you are able to adjust text and triggers.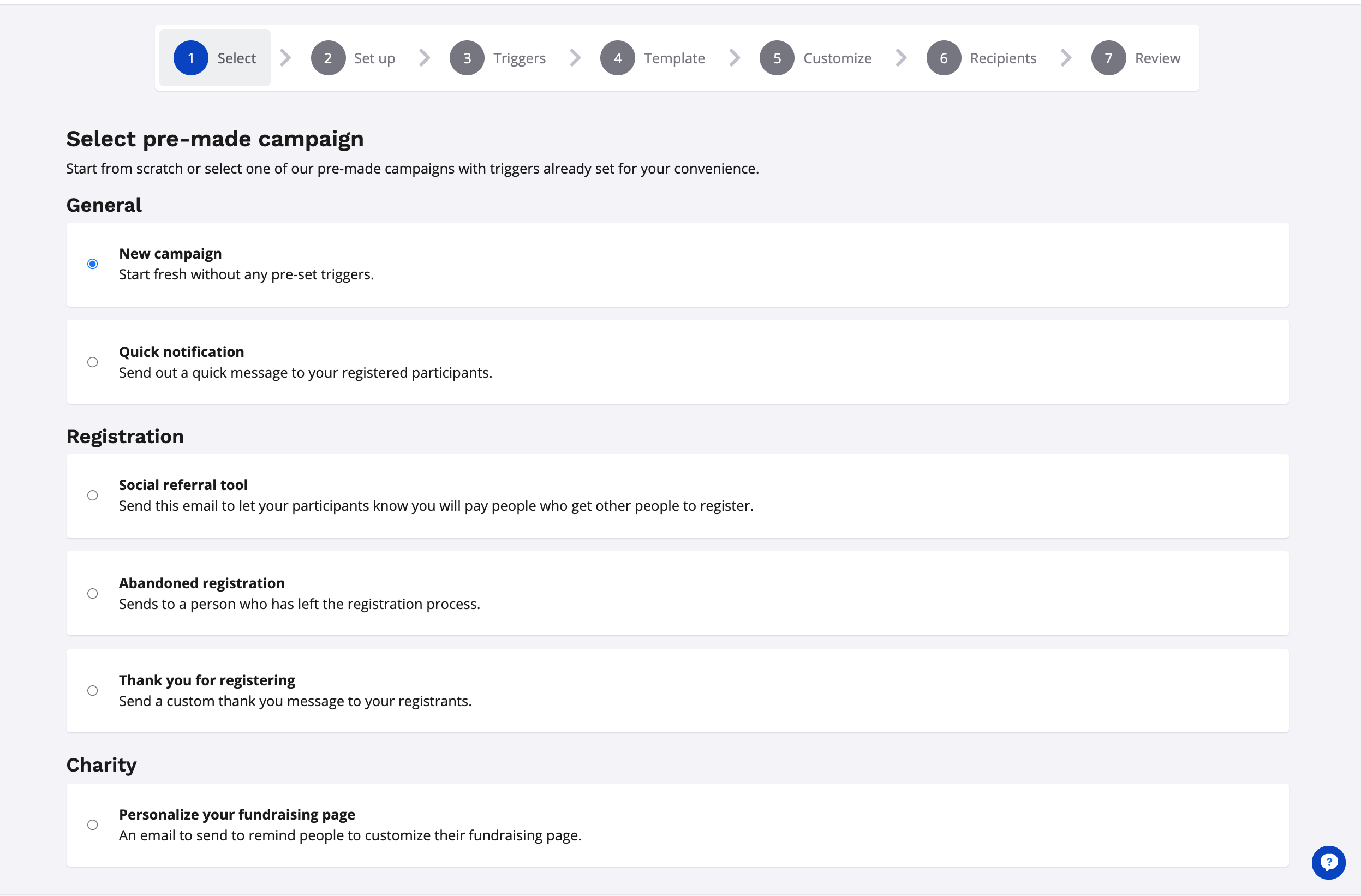 Step 2: Set up
1. Title your campaign.
2. Use the drop-down select a sender to select the sender. If empty, add the sender name by clicking the blue campaigns senders overview.
Optional: If you would like to add a different reply to email, please enter this in the sender profile. This email does have to be verified before it appears on the list.
3. Add the email subject.
4. Determine when the campaign will be sent:
Send immediately: as soon as the person registers or bulk send.
Delayed sending: you can select X days/hours/minutes from the campaign trigger.
At a set time: you select the date/time the campaign is set to the contacts selected.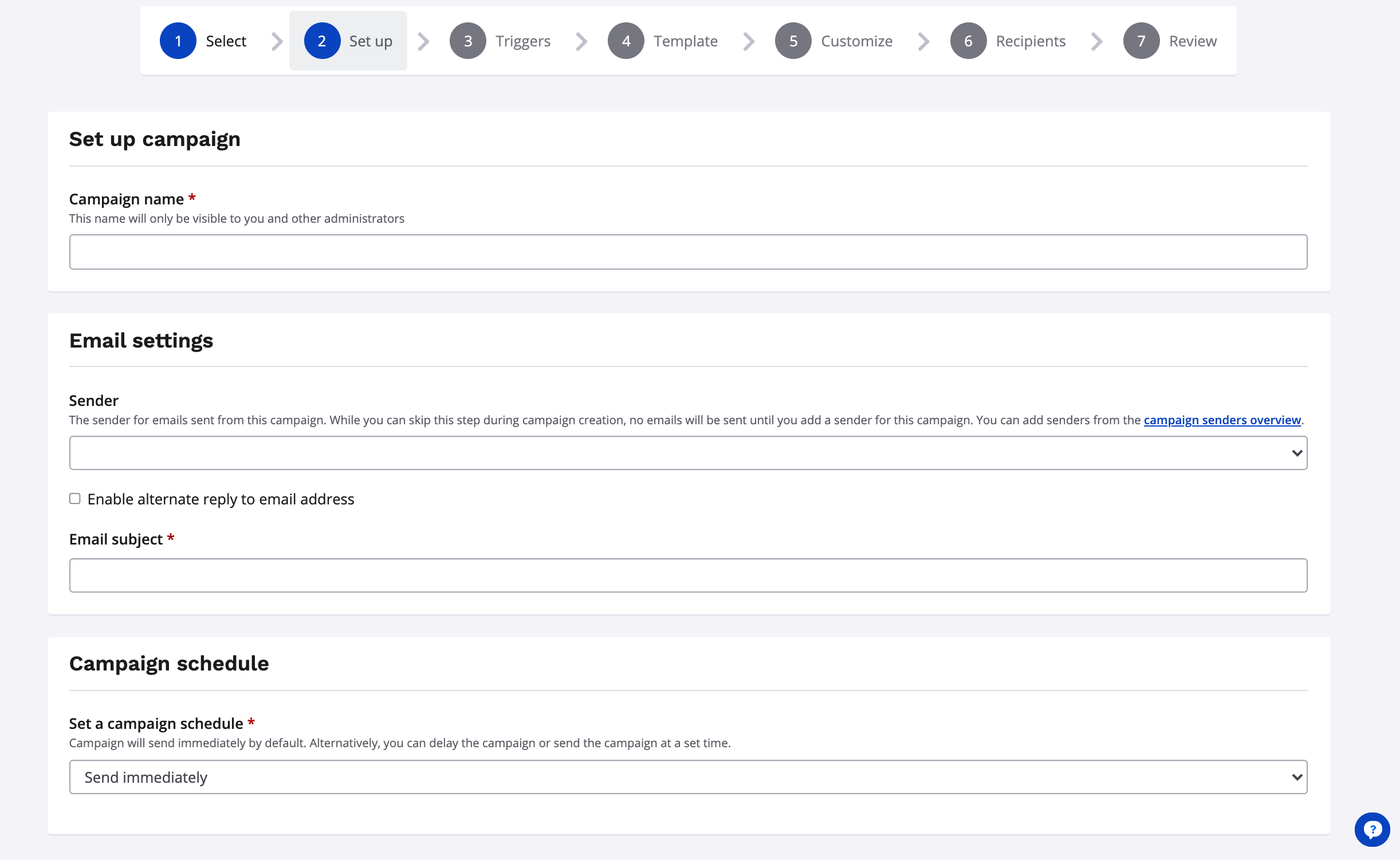 Step 3: Triggers
Triggers are what initiate the campaigns to send. Based on the triggers you select you can target specific audiences.
1. Select the conditions that apply to your campaign. Click Add condition if you need multiple triggers
2. Determine if you want to send to any of the following triggers or all of the following triggers.
3. If you want the same campaign to go to different audiences you can click Add a trigger to create another set of conditions.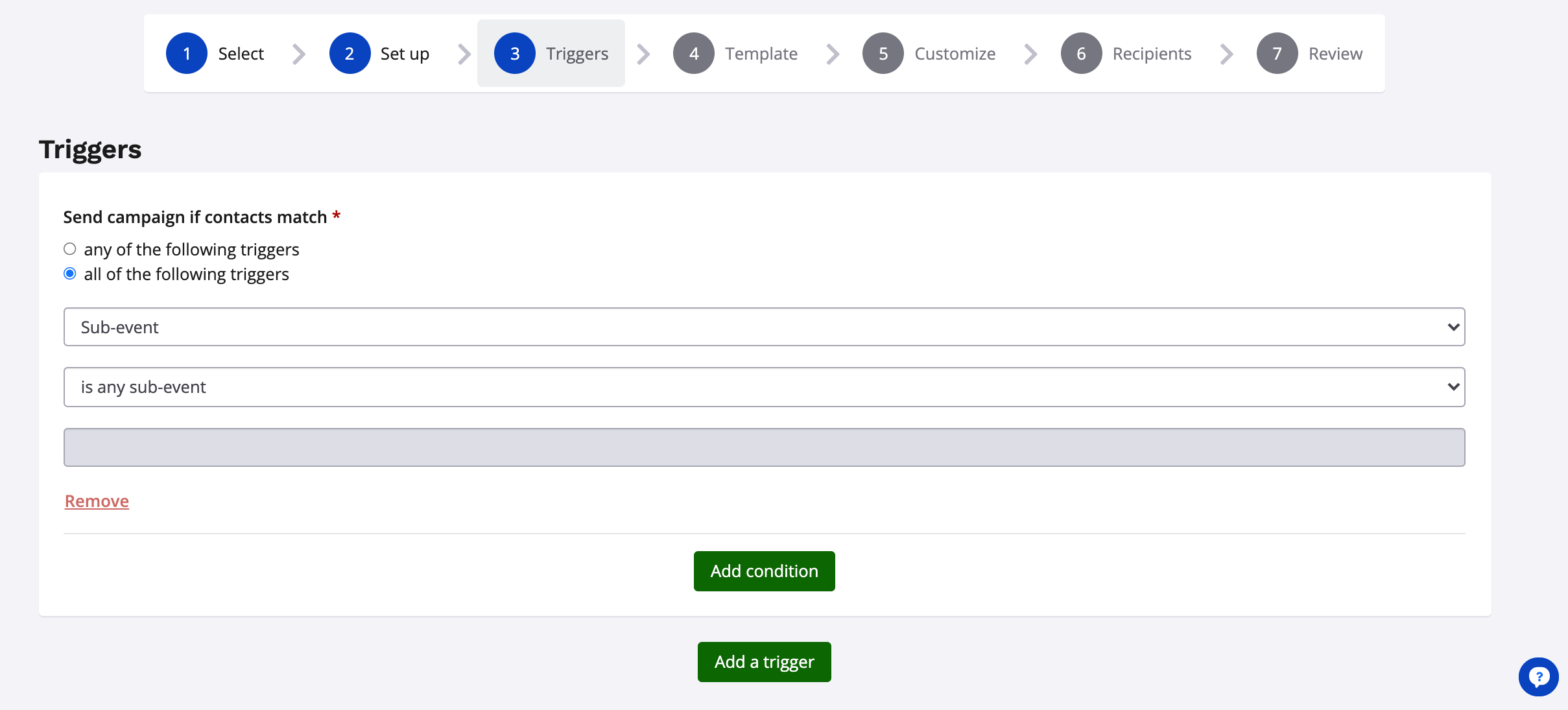 Step 4: Templates
1. Select a page layout, a theme, or a saved template. As you create campaigns you will have the ability to save them as templates, in which case they will list in this section.
For more information on templates click here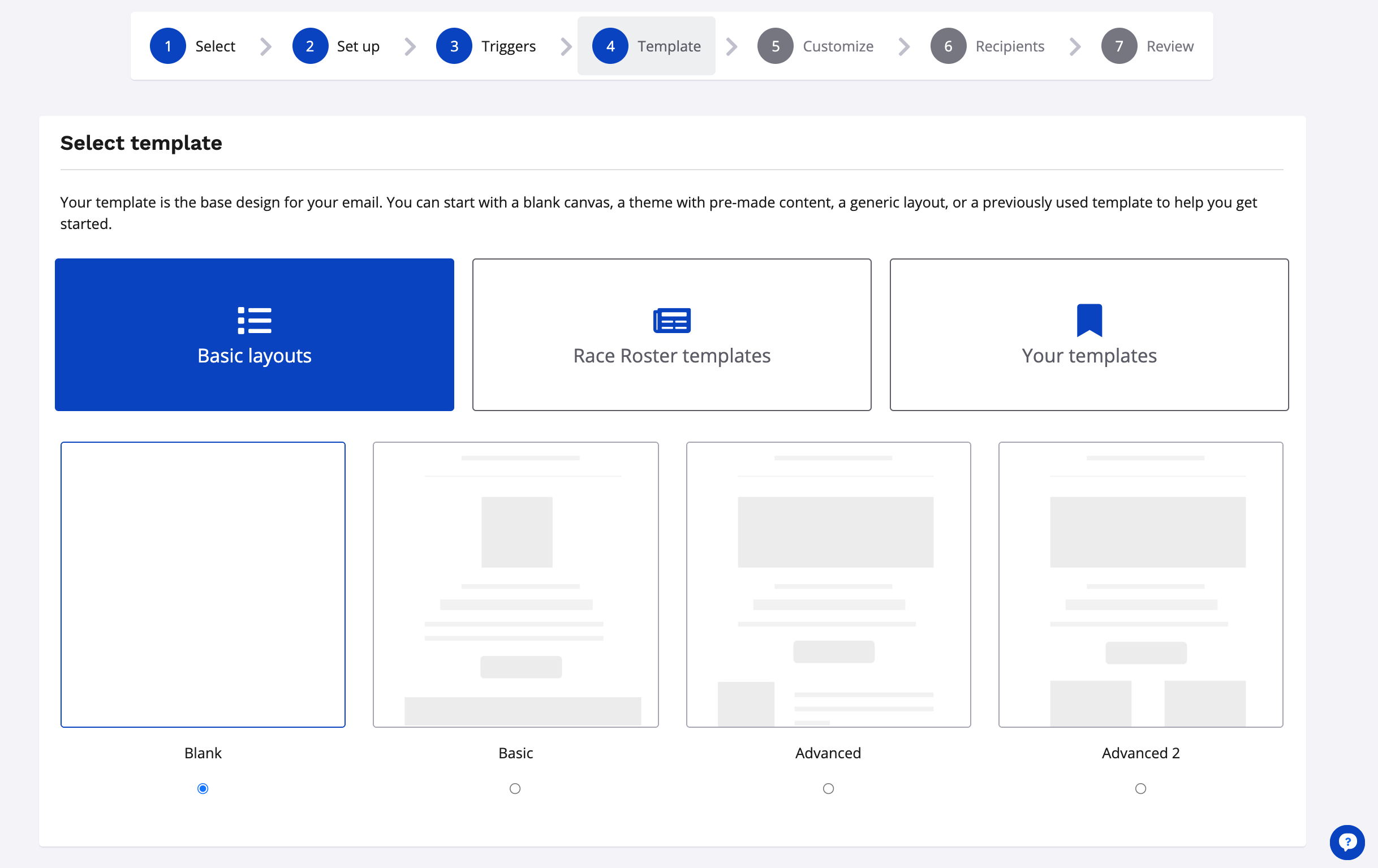 Step 5: Design
1. Name your template - this will be different than your campaign and you will be able to bring your template into other campaigns. This will also be kept internally.
2. The text editor will allow you to add/edit text, images, links, and any other customization
3. If you're interested in personalizing the campaign, you are able to use merge tags
4. Click Save and continue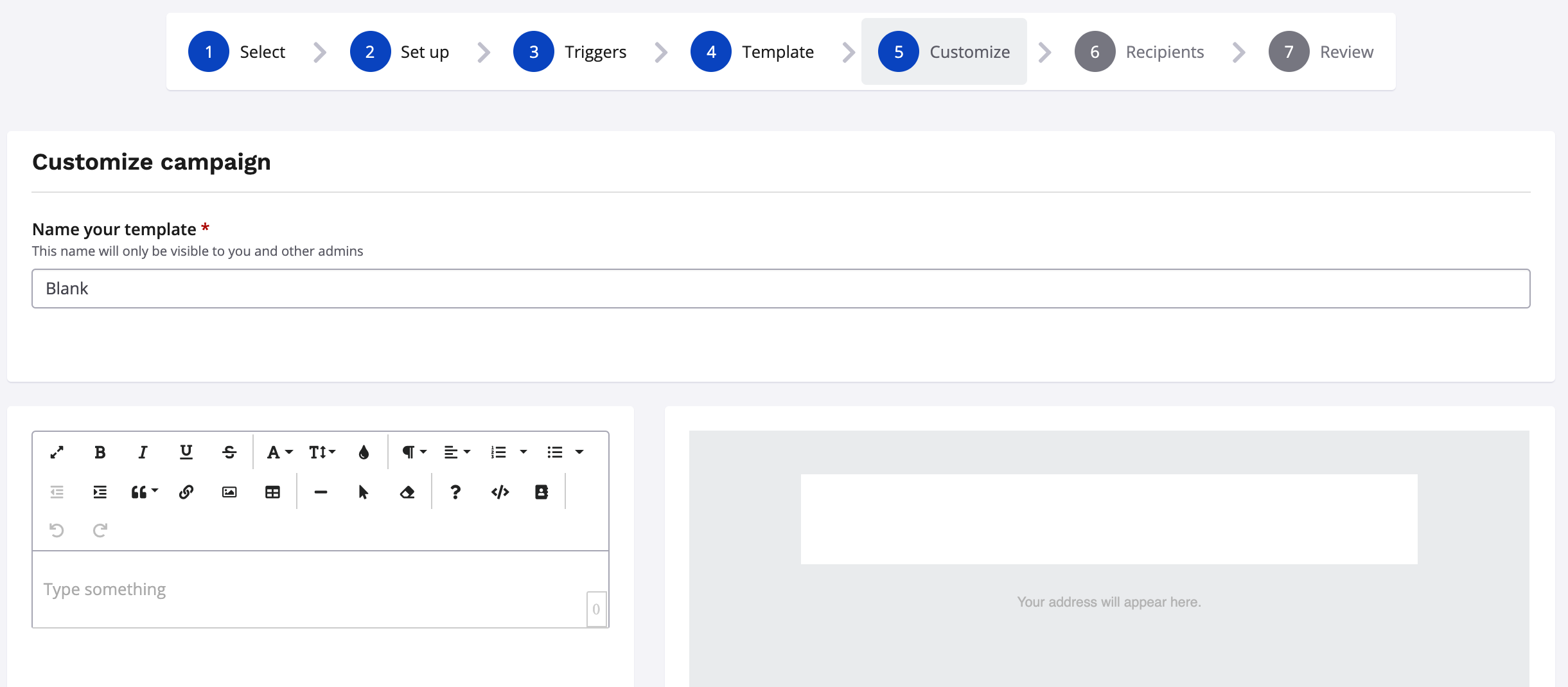 Step 6: Recipients
1. Navigate to the section titled who are you sending this to? This campaign can be sent to:
Current contacts who match the triggers to send the campaign to all current participants and they will only be emailed once
Future contacts who match set triggers to send the campaign to all participants that register from the moment the campaign is active and forward. This campaign will continue to send out until the event registration stops.
BCC recipients

if you would like the campaign to be sent to a specific individual(s) every time the triggers are matched. This is in

ntended for internal use as a way for team members to receive an email campaign each time it is triggered.
2. You can also toggle on Only send to each email address once. This feature will only send 1 email to each unique email address. This feature is best used for marketing communication where each email address should only receive one copy of the email.
3. Click Save and continue.

Step 7: Review
1. On this page, you will be able to view the number of participants the email will be sent to (if applicable)
2. Navigate to the far left-hand side to ensure that all your conditions and configurations are set up properly. If anything is off, click the Edit button to go back to that section and update.
3. You can test send a campaign by clicking on the Send test email button and entering the email where you would like to send the preview