To initiate a transfer as a director (IF you currently have transfer settings turned on) it's a few quick steps!
 1. Start by signing in to your Race Roster dashboard, selecting the 'Race Director' view and following the screenshots below (step by step instructions for dashboard sign in can be found here)
2. Navigate to the top of your screen and check that the correct event is showing in the white bar
3. To the left side of your screen you will see a menu of options for editing your event, scroll down and click the arrow next to 'Participant Data' and then select 'Participant List'
4. The system will open up a report menu, scroll through the date and field options and make changes before hitting 'View Results'
5. You will see a search bar open on the right above your results, type in the participant's name or email to find their registration
6. Once their name pops up, simply click 'Transfer'
7. Use the Transfer Registration To to indicate what the participant would like to do - either transfer to a New Registrant or New Subevent
8. IF you have already set up Transfer configurations then all the configurations will appear. Otherwise use the checkboxes to configure the transfer.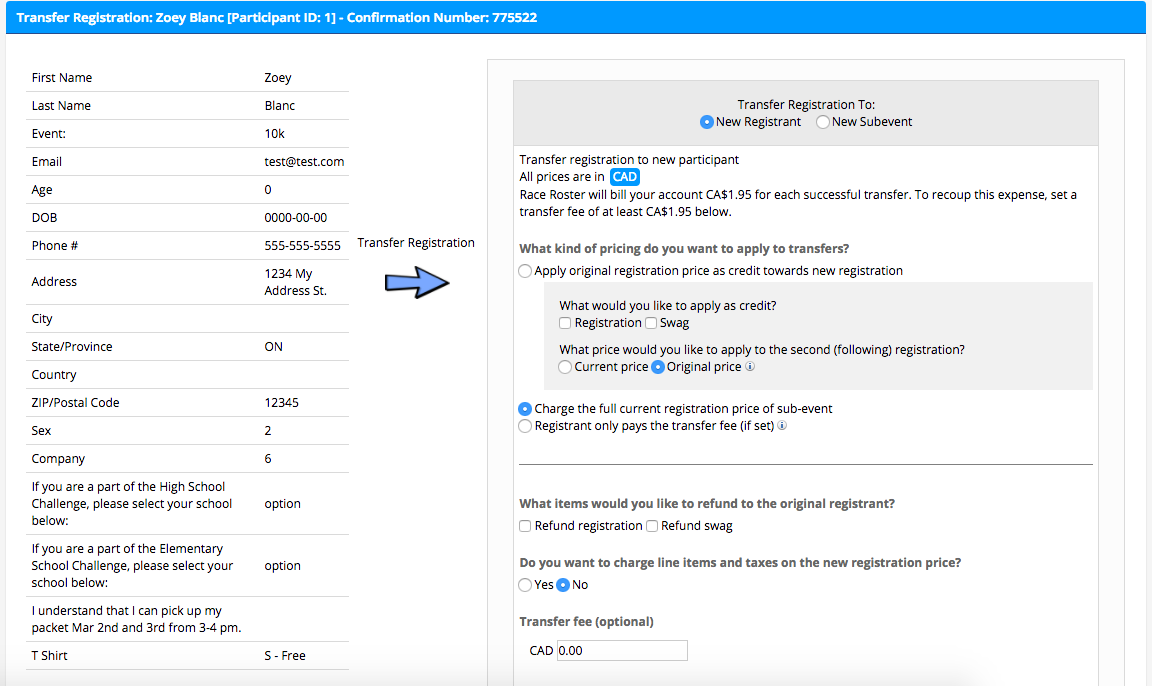 9. If you choose New Registrant enter the email address under the field for Enter Email to transfer registration to
10. If you choose New Sub-event navigate down and use the drop down to select the sub-event the participant will transfer to
11. Scroll down to review the estimated cost for the participant to complete the transfer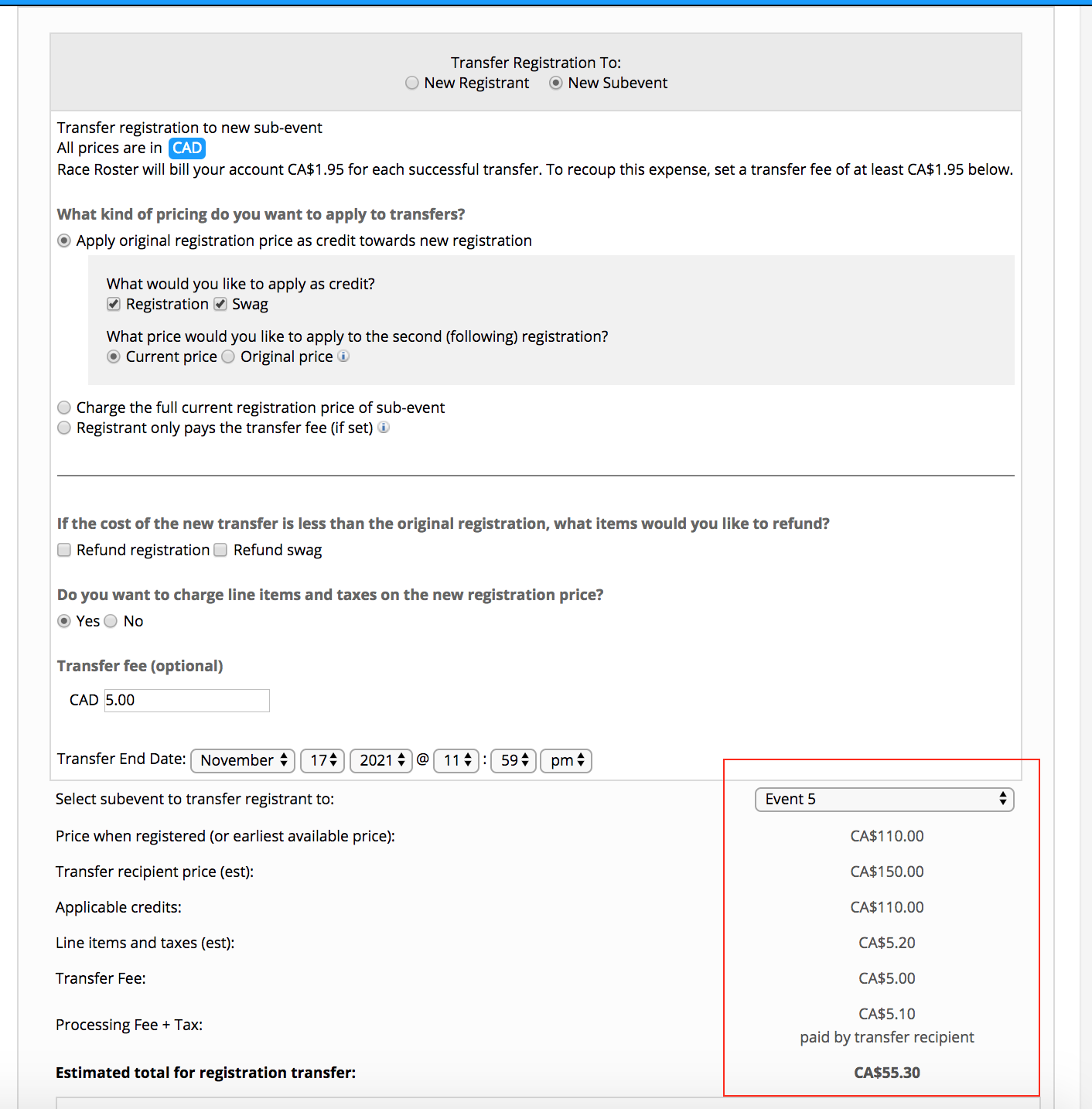 12. Once you review the configurations click Transfer Registration
What will the participants see: 
If you initiate a person to person transfer:
1. The original participant will receive an email indicating that a transfer has been initiated and any details of the transfer (if applicable - dependent on transfer configurations):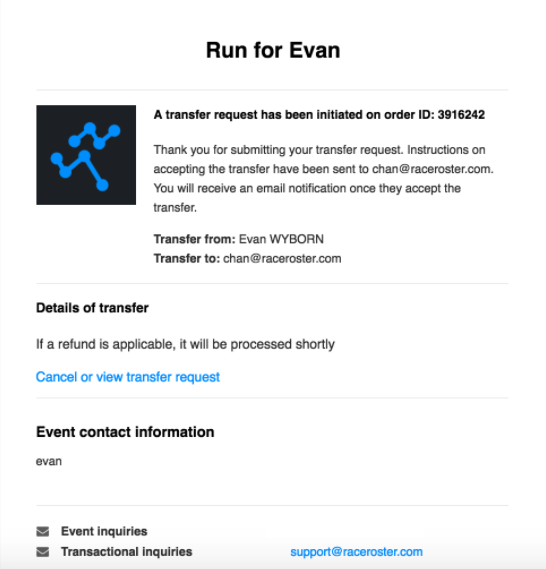 2. The new participant will receive an email indicating that they have been sent a transfer, which will include a link to complete the transfer.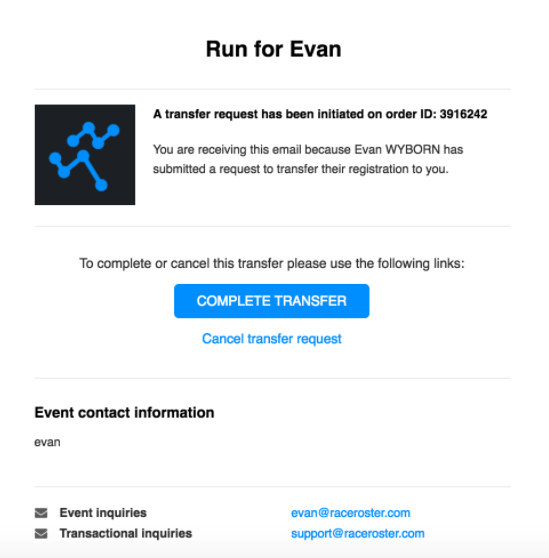 3. Once the new participant completes registration, the original person will receive an email indicating that the transfer has been completed.
If you initiate a sub-event to sub-event transfer:
1. The participant will just receive an email indicating that a transfer has been initiated and they can complete using the link provided in the email