Setting up your charity partners on your Race Roster event page is a great way to increase awareness and funds raised for your cause/causes. You will have the option to enable a "Donate Now" button, donation in the registration process, participant and team pledging as well a leader boards to track everyone success. 
Login to your dashboard as a Race Director
Navigate to the left of your screen and select 'Event Settings', followed by 'Charity Settings' from the drop down menu
Select the "Yes" option next to "Enable Charity?" 
Enter the Charity Name as you would like it to appear 
Enter the Charity Website URL (for e.g. http://bethanyshope.org) 
Enter the Charity Description This information will be displayed any time an individual goes it make a donation through the "Donate Now" button, pledges a participant or team or is asked to donate with their registration
Upload your charity logo with the "Browse" and "Upload Image" buttons 
Next you have the option to set a charity close date (when online donations can no longer be accepted). Note: the default date is 30 days after the event date
Next decide if you would like to include a charity goal. This amount will be specific to this charity only
Select "Yes" to "Display Charity on Event Details page?" if you would like the charity and "Donate Now" button to appear on your event page. Best practice is to always have this turned on to boost your fundraising dollars 
Select "Yes" to "Display total raised?" if you would like your progress/total raised displayed on the event page
Select "Yes" to "Enable Participant Pledging" to allow individuals and teams to have their own sharable pledge pages. Participants will be able to set goals, add a story and share their pages via email and social media. A great way to boost fundraising! 
 Select "Yes" to "Teams Require permission to receive pledges?" if you would like all members of a team to be required to reach out to the event organizer before being able to receive pledges. Note: Best practice is to always select "NO" unless your event as specific needs that require this option 
Next decide if you would like Race Roster to issue charity receipts on your behalf to donors. If YES, please fill out the applicable form. A member of our staff will reach out to confirm and approve this request. 
To add another charity select the button and repeat steps 4-14 
Lastly decide which charity widgets you would like to display on your event details page. 
Check "Enable Simple Charity Widget" if you would like just the charity name and donate now button to appear. This will remove the logo and progress bar
Check which leader boards you would like displayed (top team, donors and fundraisers) and the number of top results to display for each
17. Click SAVE 
Displayed charity, goal and amount raised on the event details page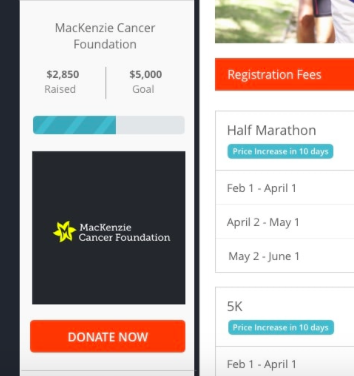 Leader Boards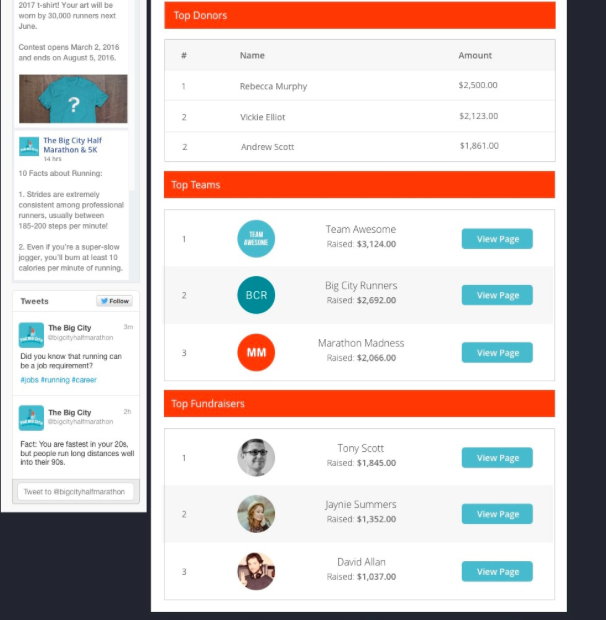 Individual Pledge Page